Today's Featured Rates
Actual interest rates and APR's may vary based on credit history, loan to value, number of units and determination of mortgage insurance availability.
Assumptions and Disclosures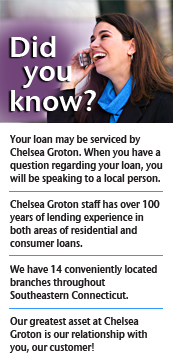 Chelsea Groton Bank Benefits

We offer free pre-approvals online, so you can shop for your home with confidence. Apply Now! Having the advantage of knowing your purchasing power gives you an advantage with real estate professionals and sellers alike.

We can give you an answer on your mortgage request in minutes, rather than days or weeks! Thatís not all. After your loan closes, rest assured your loan may be serviced right here in Southeastern Connecticut by our team of experienced professionals. You will also be eligible for our Relationship AccountTM.

You can call or e-mail one of our mortgage professionals to answer any of your questions or to ask for advice. Just call (860) 448-4174 to speak with a mortgage specialist.

We offer a variety of loan options to choose from including fixed rate mortgages and adjustable rate mortgages. We offer easy to understand explanations of each program on the site and a Mortgage specialist is always just a call or e-mail away!